HANGZHOU SHREESUN TECHNOLOGY CO.,LTD
Add: The 3rd Industrial park, Hongchou, Tiantai, Zhejiang, China.
Tel.: +86-13738146657
Fax: +86-576-85432447
Email: shreeindustry@163.com
Skype: shreeindustry
Web: http://www.shreebelt.com

Show Product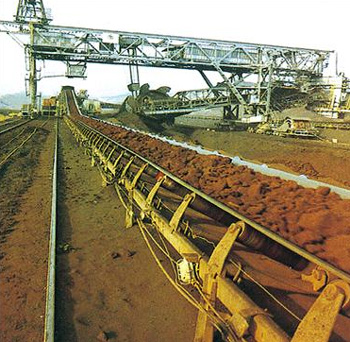 Fabric specs: NN80~NN630
Width(mm): 300-2400
Usage:
Nylon(NN) conveyor belt are fit for medium, long-distance and heavy-load transportation of materials, widely used in mining, metallurgical, architectural industry, ports, etc.

Features:
Nylon is one of the high quality synthetic fibers in rubber industry nowadays. The nylon canvas is woven by nylon fibers both in warp and in weft. It is the most widely used in fabric in rubber industry.
Nylon conveyor belts with nylon canvas have the following merits:
1) high abrasion resistance, high tensile strength and good fatigue resistance;
2) Conveyor belt with nylon canvas inside has the characteristics of thin belt body, high tensile strength, good shock resistance, good trough ability, high adhesion between plies, splendid flexibility and long working life.
Specification and technical index of Nylon conveyor belt
Fabric type
Fabric structure
Fabric type
Fabric thickness
Cover rubber thickness
Width
Length
warp
weft
Upper
Lower
Nylon(NN)
Nylon(N)
Nylon(N)
NN-100
0.75
1.5-8
0-4.5
400-2500
<=300
NN-150
0.80
NN-200
0.90

500-2500
NN-250
1.15
NN-300
1.25
NN-400
1.45
800-2500
NN-500
1.55
We could offer belt with cover grade in accordance to International standard such as DIN 22102, RMA, AS 1332, SABS 1173/2000, IS 1891, BS 490, JIS K 6322, etc.
Standards
Cover Rubber
Adhesion
Tensile Strength
Elongation at break
Abrasion
Cover to Ply
Cover to Ply
Ply to Ply
DIN 22102
Mpa
%
mm3
N/mm
(≤1.5mm)
N/mm
(>1.5mm)
N/mm
DIN 22102-Z
15
350
250
3.5
4.5
5
DIN 22102-W
18
400
90
3.5
4.5
5
DIN 22102-Y
20
400
150
3.5
4.5
5
DIN 22102-X
25
450
120
3.5
4.5
5
Standards
Cover Rubber
Adhesion
Tensile StrengTD
Elongation at break
Abrasion
Cover to Ply
Cover to Ply
Ply to Ply
AS 1332
Mpa
%
mm3
N/mm
(≤1.9mm)
N/mm
(>1.9mm)
N/mm
AS 1332-N17
17
400
200
4
4.8
6
AS 1332-M24
24
450
125
4
4.8
6
Standards
Cover Rubber
Adhesion
Tensile StrengTD
Elongation at break
Abrasion
Cover to Ply
Cover to Ply
Ply to Ply
RMA
Mpa
%
mm3
N/mm
(≤1.6mm)
N/mm
(>1.6mm)
N/mm
RMA-I
17
400
3
4.4
4
RMA-II
14
400
3
4.4
4
Standards
Cover Rubber
Adhesion
Tensile StrengTD
Elongation at break
Abrasion
Cover to Ply
Cover to Ply
Ply to Ply
SANS 1173
Mpa
%
mm3
N/mm

N/mm
A
18
400
70
5
7
C
20
400
150
5
7
M
25
450
120
5
7
N
17
400
150
5
7
Related Product
Hot Product